We provide a

Price Quote

for your project within A Day!
Data Collection
---
Information on all the components is obtained during a field visit and from electrical utility and manufacturers, and then tabulated.
Study Cases
---
Perform Power systems studies based on normal and alternative operating scenarios to determine the worst case short circuit currents for power systems equipments.
One-line diagram
---
Provide clean One Line Diagrams with Title Blocks and clear component names in order to understand each model separately.
Equipment evaluation
---
Compare the short circuit ratings with protective device ratings and perform adjustments to the calculated short circuit rating
Protective Device Recommendations
---
Improving the coordination between the protective devices, for reliable operation and correct any deficiencies bound in Short circuit, arc flash and coordination studies.
Self-Explanatory Time Current Curves (TCC)
---
Provide an organized TCC Curve for every settable protective devices including circuit breakers and relays etc. for better understanding of coordination within the protective devices.
Electrical Safety Training
---
Provide customers with innovative, practical, and cost-effective System Overview Training and help your company efficiently disseminate vital knowledge to everyone who needs it.
Timely Report Submission
---
Rev#1 of our report consists of everything in order to get the client's feedback then we solve additional queries of the client (if any) and provide the final report (Rev#2).
DELIVERABLES OF SHORT CIRCUIT STUDY
We work closely with our clients in gathering data, modeling the system, simulating faults and abnormalities, documenting fault magnitudes & recommending solutions in compliance with the latest industrial standards.
Short circuit calculations, which highlights any equipment that is ascertained to be underrated as specified
Suggested modifications to rectify the underrated equipment; (trip sizes within the same frame, the time curve characteristics of induction relays, CT ranges, etc.).
AllumiaX, LLC has performed Power System Studies for various hospitals, heavy concrete facilities, power industries, commercial buildings, and industrial customers. We have also subcontracted work with Siemens, ESR Inc. and IEM (Industrial Electric Machinery, LLC).
A health insurance company headquartered in North California, it specializes in eye care products and vision insurance plans.
Located within Pasadena, California. It is one of the topmost hospitals providing healthcare and a wide variety of other medical services for over 125 years.
A coal fired power plant located near the Huntington Beach, California. It supplies 450MW worth of electricity to Southern California through its synchronous condensors.
A large cement plant located within the limts of ADA, Oklahoma. It supplies approximately 682,000 metric tons to manufacturing & construction facilities.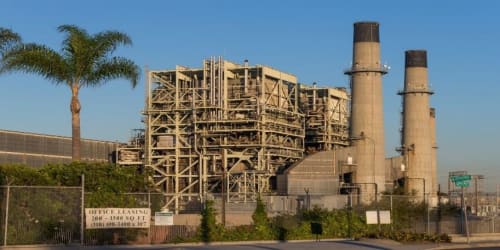 AES Redondo is a large Power plant which was built between 1954 and 1967. AES Redondo Beach is an important source of clean and reliable electricity, generating 1,310 MW, which is enough power to light more than one million California homes and businesses.
Located within Kennewick, Washington. It is a place for kids to have fun, develop character and discover their talents. This club helps youth of all backgrounds develop the qualities needed to become responsible citizens and leaders. It offers daily access to a broad range of programs